Supplier list
#1 Manny's Millinery Supply:
26 W. 38th St.
NY., NY 10018
212 840 2235
catalog $3.00
ostrich plumes straw capelines, millinery wire
#2 Walmart: glue, floral wire, silk ribbon
#3
quality millinery supplies, inexpensive hat blocks, horsehair, raffia, wire, joiners, felt and straw hoods and capelines, glue and veiling.
Here in the mountains of North Carolina spring is bursting forth with a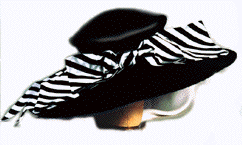 grand flourish, the native dogwood blossoms drift through the spring green emerging forest like stationary white butterflies and wonderfully contrasting shades of the Eastern Red Bud and wild red poppies makes our hearts sing as winters gray veil slowly gives up it's cloud on the land. The time is now to express our joy at the newly emerging spring flourish and what better way than a dramatic and exciting new hat. This year we are blessed again with another of the great selection of period type movies celebrating style, fine tailoring and feminine dressing. Inspiration of Titanic's hats have been seen all though out the country from New York to the avant garde shores of California. Here we will learn how to make our own using materials not too difficult to acquire . We'll begin with The Departure Hat.
Kate Winslet was stunning in her navy straw as she reluctantly embarked on her bittersweet fateful journey. Her hat can be easily reproduced in appropriate colors for your own special event or fateful journey.The hat shown here is black parisisal straw with an exaggerated bias cut silk striped taffeta.
I started with a black 19/20" capeline (#1), blocked on a madhatter shaped block (blocks also from Manny's, and Judith M. , but check local antique shows & shops). Then #19 millinery wire (#1) is sewn around the circumference of the brim to give stability. To make the sewing easier I fold over about 1/4" of the edge and press with a hot iron. The exaggerated bow in a lovely fabric is what makes this hat the stunner it is in the movie. I cut two bias strips of silk taffeta one 6 to 7 " wide and 24" long and one 5 to 6" wide and 18" long. Sew a 1/4 to 1/2 inch hem around the cut edges . Then fold and stitch the ends at the middle to shape your bows. Finish off both strips this way , then cut a strip about 2" by 4" and use this to secure the center of your bow and fold over the two bows and secure with a few stitches. Another bias strip of taffeta was cut about 25" inches long and 3" to 4 " wide. Again finish the edge with a narrow hem. Then locate the center back of the hat and stitch down this strip . I like to use 1/8 th" silk ribbon (#2) as I can pull very tight and get a good grip. , and it doesn't cut the straw. Always secure your knots with a tiny drop of glue to , or they will come loose over time. Then bring the ends around and stitch down at the center of the location you wish to place your bow. Using the silk ribbon again stitch down your bow and try on your new hat. And congratulate yourself for your efforts. I have taken artistic license and added one of my handmade organza roses at the center of the bow for some extra panache. Shop around in your area for a source on pretty millinery flowers ( antique shops, vintage hats, or order form my site).
Wings of the Dove
Continuing my instructions on cinema inspired hats we turn our attention to hats from "Wings of the Dove". Most of the hats in this movie are very similar in basic design , with color and trims adding the variation. They tend toward exaggerated wide brims with a distinct dramatic sweep of the brim, lots of lush ostrich plumes and exquisite ribbons, and are constructed of fine quality straw or fabric covered buckram frames.
The design shown here is suitable for a wedding event, in that I have used ivory, natural and creamy tones for my pallet. But any color can be used to suit your needs. The straw is a fine linen weave sisal capeline size 13 /14, in ivory that I've blocked into a rounded crown using standard blocking techniques. See my book list for basic hat making instruction for blocking information.( Davyne's book list) The brim has been reinforced by sewing in # 19 millinery wire, this is necessary to hold that nice asymmetrical line. I find the best way to insert the wire is to finger press a 1/4 to 3/8 inch channel around the circumference of the brim. The press with an iron to get a good crisp fold. Using my trusty Singer straight stitch I then sew in the wire. A regular straight stitch machine is sufficient to sew in the wire if the straw is a fine quality. If you're using a heavier straw you may simply hand stitch the wire in rather than risk overdoing your machine. If you are fortunate enough to have a wire joiners then use them to join the ends, otherwise overlap the wire at the back of the hat. I secure my wire by gluing on a 2 to 3 inch strip of bias cut fabric. This will prevent the wire slipping loose later on.
One of the hats I loved in the movie had a touch of lace stitched lightly over the crown as though the lace was blown by the wind onto the hat. I have achieved that affect here by stitching on a piece of fine vintage lace. I use 1/8 th inch silk ribbon to secure my trim (Walmart), placing a drop of glue on the knot with a toothpick to secure the silk. For the ribbon, choose a lovely ribbon with a crisp hand such as taffeta, I've used a 5 inch wide ivory ribbon here. Circle the crown with the taffeta ribbon and stitch securely. I curled my plumes before applying them with a small curling iron. Stitch down a couple of ostrich plumes at an angle that you find pleasing. Then I've stitched on a bow with one of my handmade silk roses in the center.
Do a finishing adjustment of the wire in the brim after you're applied the trims for just the right asymmetrical angle. You will have a dramatic design unavailable on the retail market and you'll be the envy of your hat loving fiends.
Copyright 1999 Davyne Dial all rights reserved.
Instructions are for personal use only. No permission for commercial use is given.
For an extensive list on books on the art of millinery click on this Davyne's Book list, link...
Home|Book List |Press
General Information Page | Biography
Privacy Statement | Wholesale Information| Catalog
Millinery, Silk Rose and Dyeing instructions
view my Japanese Garden
Search My Site
T